Articles and blog
---
Sking
---
Ski area at Madesimo / Valchiavenna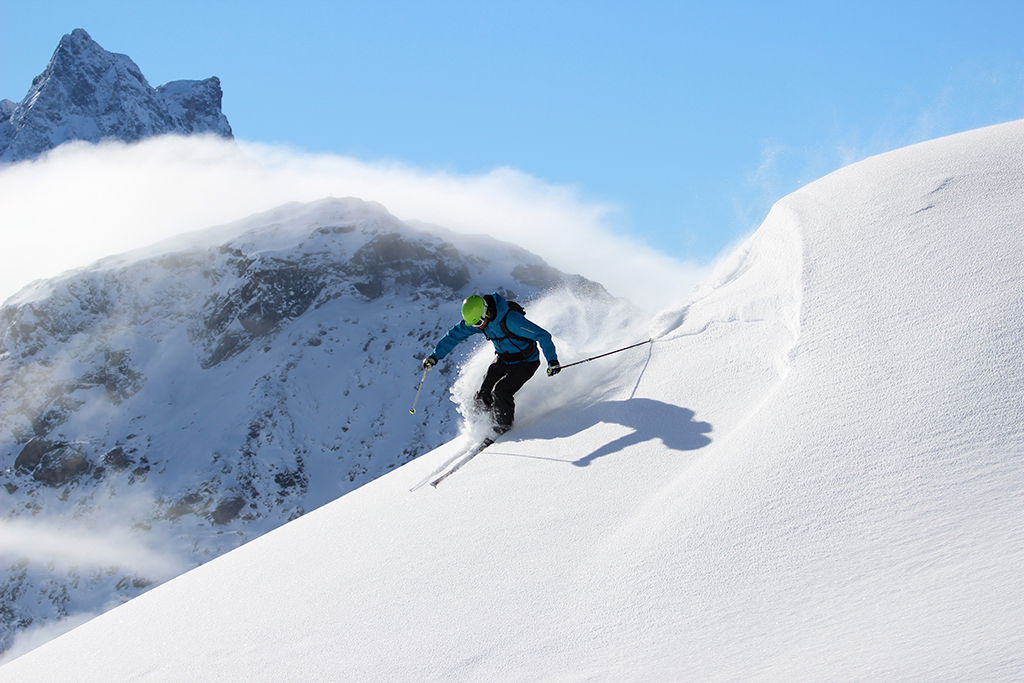 Italy is home to arguably the world's greatest collection of historical, art, architecture and cultural treasures. It almost seems unfair to add the heady blend of food, wine, natural beauty and weather to the mix - creating surely one of the best places to visit in europe.
The spectacular alps in northern Italy are stunningly beautiful in their own rite but double as the playground for some of the best skiing to be had anywhere in the world. The Valchiavenna ski area found close to Madesimo is one of the jewels in the crown of the italian alps and is less than two hours from Casa Cima.
The unique topography of the Valchiavenna coupled with its snowmaking machinery means the skiing starts earlier (November) and lasts longer throughout the season. More than 60km of downhill slopes and 25km of trails for cross-country skiing are available and due to the magnitude of area at your disposal you won't feel the crowds that affect many of europe's ski resorts. If the daylight hours are not enough to get your fill of the piste night skiing is possible on the Pianello/Montalto slope using the Larici gondola.
From the high-level competition routes of the Montalto slope to family friendly / learner areas, you'll find the Valchiavenna has it all. From the tracks high in the mountains you can ski through woods and trails to the town of Madesimo where restaurants, bars and cafes are abundant.
For families with young children, the 'Baby Park' is the ideal place to learn to ski or just have fun in the snow. Divided into two areas, the park caters for children on skis and those on bobs, sledges or tubes. Ski instructors are available - and helmets are mandatory so don't forget to take them with you. The 'Baby Park' at Larici is open from 0930 to 1600 on Saturdays and Sundays throughout the season. 14 lifts operate throughout the Valchiavenna, from 0830 to 1630 (starting at 0900 during weekdays).
Little wonder that writer Dino Buzzati described the area with the words:
"the fantastic scenery...the charm of the intimate atmosphere... a cool thousand metres of difference in altitude, three and a half kilometres of slope... you will feel yourself opening up before this overwhelming wonder... it is the best slope in the Alps"
To get to the Valchiavenna ski area From Casa Cima head north east on the SS340 road to Chiavenna and then Madesimo. For more information including weather updates, check out the ski Valchiavenna website.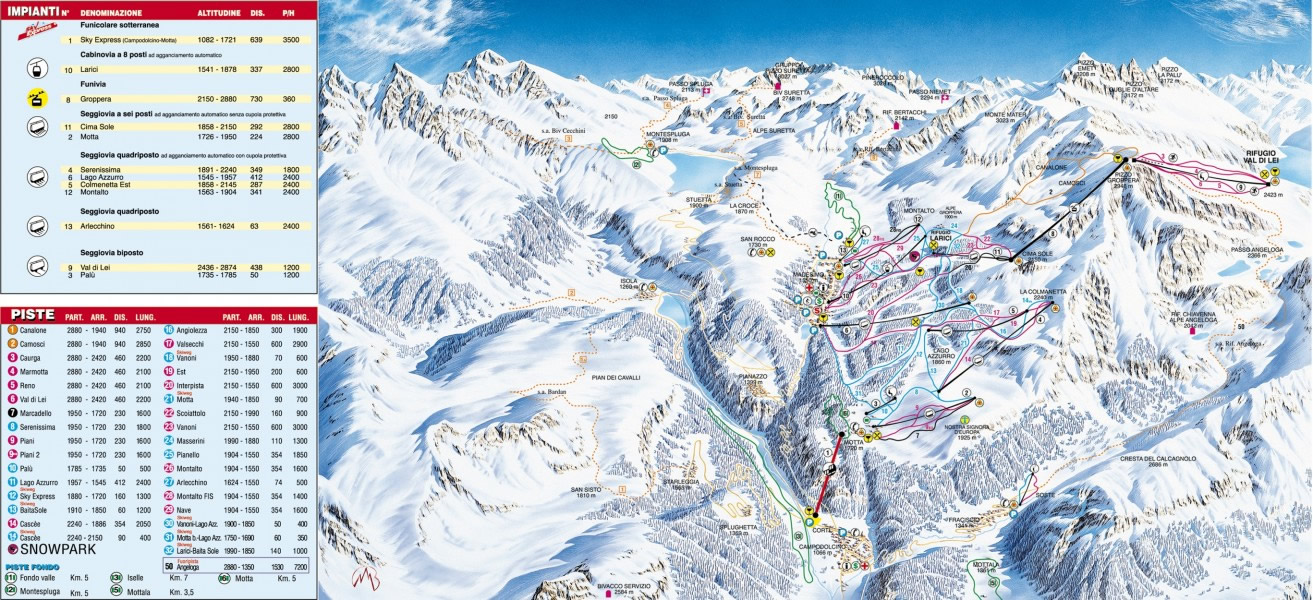 Top image courtesy of igluski.com
---
Family Fun
---
Family fun at Tamaro Splash and Spa
Just over the Swiss border in the Italian speaking Ticino region of Switzerland is Splash & SPA Tamaro.
Spash & Spa is the newest water park in Europe and is a fantastic half day trip for families and adults alike to enjoy thrilling water slides or relaxation in the pools and day spa.
For kids there's a wave pool and children's splash ground. For the thrill-seekers you could try breath-taking slides including a four-person tube ride called the Gravity Killer. Other rides include the two person tube ride called the Mania. There is also the Wash Machine, the Black Night and Tunnel of Horror. A lot of fun all round!
There are also two large thermal pools, one indoor and one outdoor with a beautiful view of the Swiss Alps and Monte Tamaro. Both have bubble jets, jacuzzi and a number of water attractions.
Splash & Spa is only 20 minutes from Casa Cima heading towards Lugano in Switzerland. It is one of our favourite trips from Casa Cima.
RISTORANTE IL RITROVO | 44, Loc. Cinì - 22018 Porlezza (CO) - Italia | P.I. 02567580135 | Tel. +39 0344 72360 | Fax. +39 0344 72360 | ristoritrovo@hotmail.it
---
Family Fun at Swiss Miniatur on Lake Lugano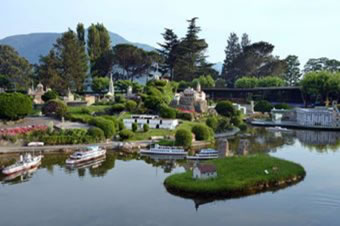 Swissminiatur is a family attraction in Melide, on the shore of Lake Lugano. This is a very popular tourist destination with over 2 milion visitors every year.
Celebrating its 50th year anniversary in 2009 Swiss Minatur is an open-air miniature park surrounded the mountains of Monte Generoso, Monte San Salvatore and Monte San Giorgio, which has been declared an UNESCO World Natural Heritage Site.
Swiss Minatur has 120 models at scale of 1:25 which represent the most important buildings, monuments and transportation means in Switzerland. The site includes a 3,560m long model railway with 18 trains runs through the park.
The Swiss Minatur park is magestically decorated with a selection of 1,500 plants and over 15,000 flowers
Kids love the trains that run along the tracks, cross bridges and stop by at stations. You can also see miniature boats on the lakes, as well as cable cars and funiculars traverse the mountains. There are several coin operated rides for children.
This is a great family trip which you can get to from Casa Cima in less than an hour, door to door.
How to get to Swiss Minatur:
By Car:
Drive on the A2 Motorway/Highway in the direction of South (Chiasso – Italy). Exit at Melide – direction Bissone A2 Motorway/Highway Direction North (St. Gotthard) Exit at Bissone / Campione d'Italia direction.
By Train:
The closes Train station is Melide which is 200m from Swiss Miniatur. You can reach Melide Train Station in 7 minutes from Lugano Train Station or in 21 minutes from Chiasso Train Station
By Boat:
You can reach Swiss Miniatur by boat from Lugano. The journey time is 35 minutes.
Entrance Fees:
Adults: 19.00 CHF
Children (above the age of 5 years): 12.00 CHF
Entry free for children under the age of 5 years
Family Day Card: 55.00 CHF
Senior (>65 years old) 15.00CHF
Please check their website for updated ticket price and latest deals before planning your visit. View their contact details or visit the Apple iTunes store to download their app
Opening Hours
From March 12 until October 23, 2016, from 9.00 am to 6.00 pm
---
Restaurants
---
Best places to eat near Casa Cima
Perhaps it's the pristine mountain air, perhaps the outdoor activities that work up an appetite, but whether you're settling in to a meal or bread, wine & cheese, or heading out to one of the cute nearby restaurants, everything always seems to taste better in Italy. Cima has plenty of dining options. Here are some of our favourites for Dinner.
La Traverna (‪Piazza Selva, 22018 Cima, Italy, ‪+39 0344 72738) has to be one of the best authentic Italian restaurants we've been to. The food is delicious & you wont find more friendly & welcoming service. Giorgio will take great care of you. They also cater for vegetarians. Their Pizza is delicious, but note they don't serve it for lunch. The Conservatory has great views out over the lake. It can get quite busy with locals (always a great reflection of the food) so do book ahead. ...& do try their ice-cream.
La Masseria Beach & Terrace Grill (‪Localita Cini 21, 22018 Cima, Italy, +39 0344 629131) is a great dinner option, with organic food options on the kids menu too. They have a beautiful balcony setting overlooking Lake Lugano, & one of the largest wine lists we've seen in this region, which gives you all the ingredients for a very romantic evening. Do ask to sit outside when you book. As with a number of restaurants in the region, fruits, vegetables & dairy products are sourced from local farms, making for delicious fresh food. If steak is your thing, ask about their organic beef options, or their Lombardian Rib eye.
Ristorante & Bistro San Marco (‪Via Privata San Marco 1, 22018 Cima, Italy, ‪+39 0344 629131) has a buffet option, & manager Roberto has been known to show any kids a few magic tricks. However there is also an area for couples in the conservatory. With its mountain & lake views & excellent food this is a great venue to linger over good food & wine with good friends. I half expect George Clooney & Amal to walk in...
---
Il Ritrovo
Il Ritrovo restaurant is a pizzeria restaurant 5 minutes drive from Cima on the foreshore of Lake Lugano.
This scenic restaurant is ideal for large group gatherings, relaxing meals or romantic events. As you arrive you are immediately impressed by the attractive flower garden and the well-equipped play area for children. The views over the lake from the terraces make this restaurant a very special place.
Il Ritrovo is located at Cini, only a few kilometrees from Cima. You can reach the restaurant by car, where there is a convenient car-park close to road number SS 340. If you arrive by boat there are two large jetties equipped for mooring your boat.
The owners, Claudio and Tino serve regional Italian cuisine including fish from surrounding lakes and local produce. These TripAdvisor reviews show what a popular restaurant Il Ritrovo is.
RISTORANTE IL RITROVO | 44, Loc. Cinì - 22018 Porlezza (CO) - Italia | P.I. 02567580135 | Tel. +39 0344 72360 | Fax. +39 0344 72360 | ristoritrovo@hotmail.it
---
Events and things to do
---
Cycling and Mountain Biking near Porlezza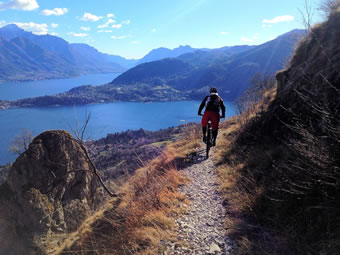 The area of Porlezza is ideal for cycling and mountain biking.
Taking a leisurely ride is a wonderful way to enjoy the beautiful scenery and experience the mood of Porlezza, Como and Lugano regions.
Cyclists and mountain bikers will find a variety of cycling and bike trails to enjoy. Routes cater for leisure and competitive cyclist of various distances and difficulties.
Some routes include:
http://www.comomeeritalie.nl/activiteiten/mountainbiken
http://www.mapmyride.com/it/porlezza-lombardy/
One of the most popular routes is a 300 km scenic track called "Ciclovia dei Laghi". This is divided into nine routes with each route taking about three hours for the average cyclist. Amongst the many areas of interest along these routes you will find small villages, churches and café's to indulge in and enjoy.
Some routes include:
www.routeyou.com/location/bike/47265858/fietsen-in-porlezza-overzicht-van-alle-fietsroutes.nl
Enjoy Porlezza and Como on two wheels. A wonderful way to get out and about!
---
Cycling in Como & Northern Italy
Your author isn't a cycling novice, with an ironman triathalon under her belt. While these days the prospect of a hot chocolate & croissant brunch would be the highlight of most rides, the stunning scenery around Casa Cima is a whole different story (not to say the hot chocolate isn't important still). You'll love feeling the wind on your face as you breath in the pristine mountain air. Porlezza boasts many cycling routes, to suit any level of fitness, age and personal preferences (see earlier comments about frequent hot chocolate stops). & better yet, if you're travelling from afar & don't want to bring your own bike, Zizzo Auto in Porlezza has bikes for hire. Just call ahead.
You can find information on cycling routes around the lakes area closest to Lugano on the Swiss side at this link, & routes around the Lombardy / Como region at this link. Just zoom in on Porlezza to see just what's on offer close to Casa Cima. For the ultimate challenge, try riding up the laneway to Casa Cima. We haven't managed that one yet, but if you do, you'll have certainly earned that hot chocolate. Even if you're not staying at Casa Cima, its still worth riding up Via XXV Aprile, to find the beautiful Cima cemetary & memorial garden. Truly breathtaking views.
Information for bicycle tours and itineraries in Porlezza and the area:
Bike rental in Porlezza: Zizzo Auto – Via Statale, 115, Provincia di Como, Italy. +39 0344 70801
---
Carnavale!
Not to be outdone by Rio or Venice, the people of Porlezza host their own 'Carnevale' each February, which culminates in a parade of floats & the whole town, old & young, comes to watch & dance. Carnevale is one of Italy's biggest winter festivals. Its typically held around 40 days before easter – so dates change. If you plan to be in the region in February do check to see if you'll be there for the festivities!
---
The Porlezza Farmers Market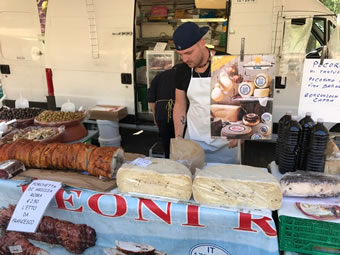 Just a few minutes drive from Casa Cima, is the lovely Italian village of Porlezza.
Off the beaten track of all the tourists who flock to Como, but still on the edge of the Lake, this town captures the beautiful essence of Italy. Narrow streets, café's & gelataria's, bakeries & a chapel up the hill make this town an enchanting hidden gem. But the highlight of the week has to be the HUGE Saturday farmers market. You can easily spend a couple of hours (or 5) wandering around & inhaling the atmosphere. The whole town turns out, for what is clearly a social highlight. You can expect to find a very wide range of goods here. In terms of food there is a mouth watering selections of cheeses, pizza, bakery items, fish, meats, fruit & veg. Even those who are not culinarily inclined will find themselves tempted to buy fresh ingredients & cook up a storm.
But it doesn't end there. This market has flowers, plants, clothes, tools, rugs & so much more. Don't miss it.
---