Articles and blog
Family Fun
---
Family fun at Tamaro Splash and Spa
Just over the Swiss border in the Italian speaking Ticino region of Switzerland is Splash & SPA Tamaro.
Spash & Spa is the newest water park in Europe and is a fantastic half day trip for families and adults alike to enjoy thrilling water slides or relaxation in the pools and day spa.
For kids there's a wave pool and children's splash ground. For the thrill-seekers you could try breath-taking slides including a four-person tube ride called the Gravity Killer. Other rides include the two person tube ride called the Mania. There is also the Wash Machine, the Black Night and Tunnel of Horror. A lot of fun all round!
There are also two large thermal pools, one indoor and one outdoor with a beautiful view of the Swiss Alps and Monte Tamaro. Both have bubble jets, jacuzzi and a number of water attractions.
Splash & Spa is only 20 minutes from Casa Cima heading towards Lugano in Switzerland. It is one of our favourite trips from Casa Cima.
RISTORANTE IL RITROVO | 44, Loc. Cinì - 22018 Porlezza (CO) - Italia | P.I. 02567580135 | Tel. +39 0344 72360 | Fax. +39 0344 72360 | ristoritrovo@hotmail.it
---
Family Fun at Swiss Miniatur on Lake Lugano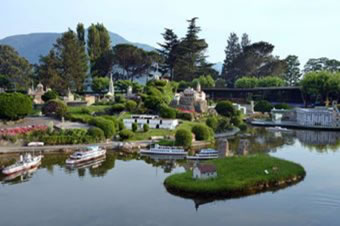 Swissminiatur is a family attraction in Melide, on the shore of Lake Lugano. This is a very popular tourist destination with over 2 milion visitors every year.
Celebrating its 50th year anniversary in 2009 Swiss Minatur is an open-air miniature park surrounded the mountains of Monte Generoso, Monte San Salvatore and Monte San Giorgio, which has been declared an UNESCO World Natural Heritage Site.
Swiss Minatur has 120 models at scale of 1:25 which represent the most important buildings, monuments and transportation means in Switzerland. The site includes a 3,560m long model railway with 18 trains runs through the park.
The Swiss Minatur park is magestically decorated with a selection of 1,500 plants and over 15,000 flowers
Kids love the trains that run along the tracks, cross bridges and stop by at stations. You can also see miniature boats on the lakes, as well as cable cars and funiculars traverse the mountains. There are several coin operated rides for children.
This is a great family trip which you can get to from Casa Cima in less than an hour, door to door.
How to get to Swiss Minatur:
By Car:
Drive on the A2 Motorway/Highway in the direction of South (Chiasso – Italy). Exit at Melide – direction Bissone A2 Motorway/Highway Direction North (St. Gotthard) Exit at Bissone / Campione d'Italia direction.
By Train:
The closes Train station is Melide which is 200m from Swiss Miniatur. You can reach Melide Train Station in 7 minutes from Lugano Train Station or in 21 minutes from Chiasso Train Station
By Boat:
You can reach Swiss Miniatur by boat from Lugano. The journey time is 35 minutes.
Entrance Fees:
Adults: 19.00 CHF
Children (above the age of 5 years): 12.00 CHF
Entry free for children under the age of 5 years
Family Day Card: 55.00 CHF
Senior (>65 years old) 15.00CHF
Please check their website for updated ticket price and latest deals before planning your visit. View their contact details or visit the Apple iTunes store to download their app
Opening Hours
From March 12 until October 23, 2016, from 9.00 am to 6.00 pm