Location
Situated on the north-western shore of Lake Lugano overlooking the lush mountainous eastern shoreline, Casa Cima is a rustic stone house in Cima di Porlezza with access to some of the regions most famous destinations.
For more information about arriving by car or transfer, train or bus read our section on getting to Casa Cima
Cima and Porlezza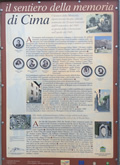 Cima is a old-world historic village with a selection of local amenities. Nearby Porlezza is a resort town just a 7 minute drive away (15 minute bike ride) where guests can access a wide variety of shops, supermarkets, cafes, restaurants and family friendly-amusements.
There are some great dining options just a few minutes drive from Casa Cima, such as Restaurant San Pellegrino.
Don't miss visiting the Churchyard (Il Sentiero della Memorial di Cima). Possibly one of the most beautiful secrets on the lake.
Porlezza comes alive every Saturday when the whole town turns out for market day. From an incredible array of local produce, cheeses and meats, pizza and bakery goods, through to plants, flowers, clothes and household goods. Don't miss it!
Lugano
Lugano is Switzerland's third most important financial centre and a town known for its parks, flowers, villas and sacred buildings. This Mediterranean style city has all the advantages of a world-class city, combined with the cachet of a small town.
Lugano lies in a bay on the northern side of Lake Lugano, surrounded by mountains, has a traffic-free historic town centre and a number of buildings in Italian Lombardy style.
Lugano has a packed calendar of events all year round and is a very popular spot for tourists. It is only a 20 minute drive from Casa Cima, or a 30 minute ferry ride from nearby Porlezza.
More information is available from the Lugano tourist site and you can view the Lugano ferry timetable here.
Menaggio
Menaggio is one of the most visually attractive and popular destinations on Lake Como. It is situated half-way up the western side of Lake Como, and is only a 20 minute drive from Casa Cima.
Menaggio has historical significance. It was originally settled during the Bronze Age by the Gauls, but subsequently conquered by the Romans. By the end of the 19th century, Menaggio had become a well-known tourist retreat attracting the very wealthy who built the Como lakeside villas which you see today.
The heart of the "old" town is Piazza Garibaldi which is close to Menaggio's harbour and features mostly 19th century buildings in Italian alpine style.
Menaggio also offers an ideal docking point to explore Lake Como by ferry or boat to destinations such as Bellagio, Varenna and Como.
For more information visit Discover Menaggio's website
Milan
Milan is Italy's cultural, industrial and financial centre. Milan is also the capital of Lombardia (North of Italy) and is one of the most recognized fashion centres in the world, and also the second largest city in Italy.
Historically Milan was the Roman capital of the western half of the Roman Empire, Milan is now a sprawling metropolis, dominated by the Duomo (cathedral) and the Castello Sforzesco.
Milan is a profound city of worldly pleasures. The Milanese lifestyle is dominated by the restaurant scene, the semi-religious shopping experience, theatre, cinema and the club scene.
Milan is definitely a place to visit if you haven't been to Northern Italy before.
Reveal more that Milan has to offer at DiscoverMilan.net
Como
Lake Como is the most recognized of the Italian Lakes. Como is situated at the head of the lake and is an ancient town over 400 years old. It is 45 km north of Milan, in Lombardy. The driving time to Lugano on the Swiss border is 45 minutes. Como has magnificent churches and monuments.
The old town of Como is protected by high walls, but dominated by designer shops and street cafes.
From Como you can embark on a delightful bus ride along the western coastline and explore memorable towns and villages such as Cernobbio, Tremezzo, Isola Comacina and Menaggio.
Como is more than an experience. It is a lifestyle and a must see on your travel plans to the region. For more detailed information check out the Discover Como website.