Articles and blog
Events, activities and things to do
---
Cycling and Mountain Biking near Porlezza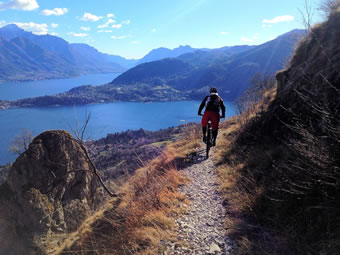 The area of Porlezza is ideal for cycling and mountain biking.
Taking a leisurely ride is a wonderful way to enjoy the beautiful scenery and experience the mood of Porlezza, Como and Lugano regions.
Cyclists and mountain bikers will find a variety of cycling and bike trails to enjoy. Routes cater for leisure and competitive cyclist of various distances and difficulties.
Some routes include:
http://www.comomeeritalie.nl/activiteiten/mountainbiken
http://www.mapmyride.com/it/porlezza-lombardy/
One of the most popular routes is a 300 km scenic track called "Ciclovia dei Laghi". This is divided into nine routes with each route taking about three hours for the average cyclist. Amongst the many areas of interest along these routes you will find small villages, churches and café's to indulge in and enjoy.
Some routes include:
www.routeyou.com/location/bike/47265858/fietsen-in-porlezza-overzicht-van-alle-fietsroutes.nl
Enjoy Porlezza and Como on two wheels. A wonderful way to get out and about!
---
Cycling in Como & Northern Italy
Your author isn't a cycling novice, with an ironman triathalon under her belt. While these days the prospect of a hot chocolate & croissant brunch would be the highlight of most rides, the stunning scenery around Casa Cima is a whole different story (not to say the hot chocolate isn't important still). You'll love feeling the wind on your face as you breath in the pristine mountain air. Porlezza boasts many cycling routes, to suit any level of fitness, age and personal preferences (see earlier comments about frequent hot chocolate stops). & better yet, if you're travelling from afar & don't want to bring your own bike, Zizzo Auto in Porlezza has bikes for hire. Just call ahead.
You can find information on cycling routes around the lakes area closest to Lugano on the Swiss side at this link, & routes around the Lombardy / Como region at this link. Just zoom in on Porlezza to see just what's on offer close to Casa Cima. For the ultimate challenge, try riding up the laneway to Casa Cima. We haven't managed that one yet, but if you do, you'll have certainly earned that hot chocolate. Even if you're not staying at Casa Cima, its still worth riding up Via XXV Aprile, to find the beautiful Cima cemetary & memorial garden. Truly breathtaking views.
Information for bicycle tours and itineraries in Porlezza and the area:
Bike rental in Porlezza: Zizzo Auto – Via Statale, 115, Provincia di Como, Italy. +39 0344 70801
---
Carnavale!
Not to be outdone by Rio or Venice, the people of Porlezza host their own 'Carnevale' each February, which culminates in a parade of floats & the whole town, old & young, comes to watch & dance. Carnevale is one of Italy's biggest winter festivals. Its typically held around 40 days before easter – so dates change. If you plan to be in the region in February do check to see if you'll be there for the festivities!
---
The Porlezza Farmers Market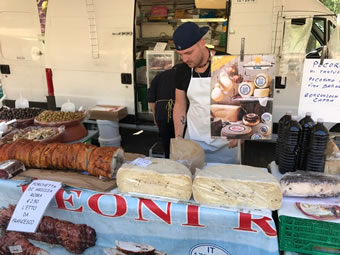 Just a few minutes drive from Casa Cima, is the lovely Italian village of Porlezza.
Off the beaten track of all the tourists who flock to Como, but still on the edge of the Lake, this town captures the beautiful essence of Italy. Narrow streets, café's & gelataria's, bakeries & a chapel up the hill make this town an enchanting hidden gem. But the highlight of the week has to be the HUGE Saturday farmers market. You can easily spend a couple of hours (or 5) wandering around & inhaling the atmosphere. The whole town turns out, for what is clearly a social highlight. You can expect to find a very wide range of goods here. In terms of food there is a mouth watering selections of cheeses, pizza, bakery items, fish, meats, fruit & veg. Even those who are not culinarily inclined will find themselves tempted to buy fresh ingredients & cook up a storm.
But it doesn't end there. This market has flowers, plants, clothes, tools, rugs & so much more. Don't miss it.